(Mostly) About Food…Stocking Stuffers and Secret Santa Gifts
(Mostly) About Food…
By Diane Pohl Minott
Stocking Stuffers and Secret Santa Gifts
I subscribe to the belief that you can't start holiday shopping early enough. The perfect gift may be in your sight and grasp in May, so why not just buy it, put it aside, and remove it from your mind until the holidays? Better yet, wrap it up and tag it, too. The perfect gift should be useful, delightful, and something the giftee wouldn't buy or find for him or herself.
Here we go:
Real Cheese Powder
Tangy Goodness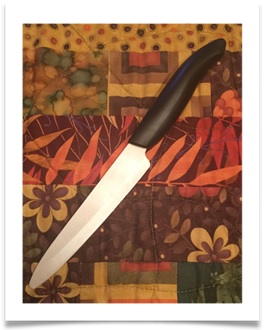 If you've ever looked at the ingredients for powdered cheese or cheese popcorn in the supermarket, you will find a long list of unappetizing chemical additives. I buy real blue cheese, white cheddar cheese, and orange cheddar cheese powder made by the Terra Spice Company and sold by the New Kitchen Store.
I put some of all three in the bottom of my popcorn bowl, make a paste with a mild olive oil, and air pop the popcorn into the bowl. After I stir it up, I indulge in a relatively healthy TV snack that tastes divine. The strong, natural flavor of the cheese really comes through. You can use it other ways, of course, and can find many suggestions online.
Kyocera Ceramic Knife
Effortless Slicing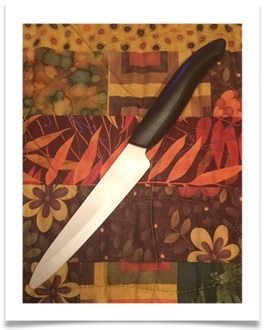 Anyone who cooks knows that a knife that's perfect for the task at hand—meaning no wasted effort—produces a sublime experience. I love the Kyocera ceramic knife that I bought at the New Kitchen Store awhile ago.
I use it mostly for fruits and veggies, and it cuts through tomatoes, carrots, and potatoes with equal ease. I gave one to my sister, a gardener extraordinaire, who eats veggies with every meal, and she loves it. This is truly the gift that keeps on giving, and Phyllis can explain its many fine qualities.
DeBrand Chocolates
Miniature Masterpieces
I buy locally whenever possible, but Fort Wayne is close enough when it comes to sinfully (I do not use this word casually) delicious chocolates. It's hard not to sigh when you bite into your first DeBrand truffle or vanilla cream or Aztec chocolate or whatever. Check out their website and swoon. The candies taste better than they look, which you wouldn't think is possible. Order something small or large for yourself (yes!) and anyone who likes chocolate on your shopping list. Everyone?
Christmas Ornaments
A Peek into Another Culture
While not food-related, do consider buying Christmas ornaments from the places you've traveled for the youngest people in your life. I have a slew of nieces and nephews and great-nieces, and I have no clue as to what they might want for Christmas. Not. A. Clue.
But for the past 20 years, I have bought them ornaments from the countries we've visited. They have sombreros from Mexico, medieval ladies and knights from the Cluny Museum in Paris, camels from Jordan, and filigreed stars from Armenia. This year, my husband commissioned small painted gourds from Benin.
Usually, there's very little I can do to impress my family's younger generations, but they love it when friends come over and see the most unusual tree decorations in town. In addition, they are exposed to something from another culture which may spark curiosity and further investigation at some point. At least, that is the goal.
Maldon Smoked Sea Salt
Wake Up Your Taste Buds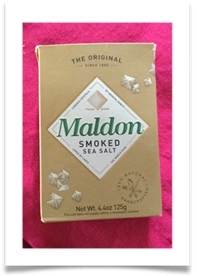 This salt has become a passion. I am sure there is something that doesn't taste better with a few flakes sprinkled before serving, but I haven't found it. Also, the New Kitchen Store stocks a variety of very unusual salts that are worth trying including the following: Brittany Natural Sea Salt, Salish Alder Smoked Salt, Peruvian Pink Salt, and (another favorite) Cyprus Black Lava Finishing Salt. Try a smoked salt on ice cream. I'm not kidding.
Phyllis researches her products carefully and only sells those that meet the highest standards for purity.
Indiana Maple Syrup
Liquid Gold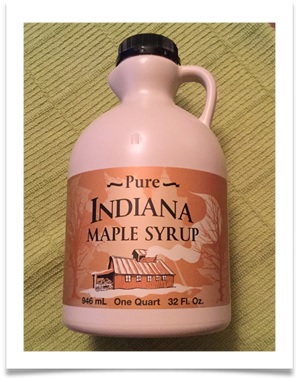 This gift satisfies on so many levels, as it is locally produced and tastes divine. I have already purchased ten quarts, and I'm planning on picking up a few more. This syrup is, according to Phyllis, the best she has tasted. I agree. There is usually a tangy aftertaste with maple syrup. Not this one—it is pure bliss on the tongue.
Who wouldn't want a smooth, velvety maple syrup to serve with holiday breakfasts? Or you can fill your prettiest glass with grass-fed yogurt and a few chopped nuts and pieces of dried fruit. Drizzle with this maple syrup and a few flakes of smoked salt. I promise your guests will love you for it.
Kinloch Pecan Oil
Healthy Holiday Baking and Frying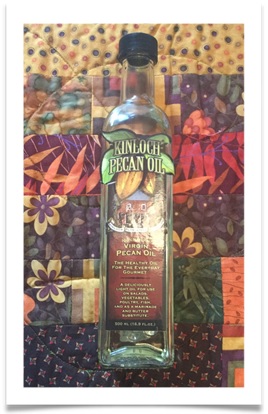 If you read about food and health, you have no doubt learned about vegetable oil and its toxicity. After speaking with Phyllis, I bought Kinloch virgin pecan oil, which she recommended as a healthy substitute when neutral oils are required.
It is very low in saturated fat, and with a smoking point of 470 degrees, it should satisfy your baking and frying needs. Imagine almost guilt-free fries! Makes a nice gift for you or the baker in your life, and everyone knows an avid holiday baker.
I hope I've given you a few ideas outside of the (gift) box. If you are in need of more suggestions, Phyllis will have them. From hot chocolate mix, to small kitchen gadgets, to lovely scented kitchen soaps, every stocking will be stuffed.