(Mostly) About Food… You Don't Have to Go to Ba Haba to Find a Lobsta in Maine
(Mostly) About Food…
By Diane Pohl Minott
You Don't Have to Go to Ba Haba to Find a Lobsta in Maine
My husband's family has had a Maine connection for generations. It is believed that before the Rockefellers descended upon Mt. Desert Island, the Lukens family was entrenched. The former fared somewhat better in business and bought up the land that is now Acadia National Park. The Lukens property is small but the view is prime: Soames Sound (the only fjord in North America) and the undeveloped, hilly property across the sound which is part of Acadia.
We haven't visited this glorious area of Maine in 20 years, and as we have always wanted to go in the fall, we booked hotels along the coast in October. The timing was ideal, as we saw the colors of Acadia for three days at their peak, before a cyclone bomb denuded and uprooted more than a few trees.
Maine is associated with lobsters, of course, and there was no escaping them on our trip. If we were on the water, they were under us, possibly in the "parlor" of a trap. Or they were already on the lobster boats which populate the coastline.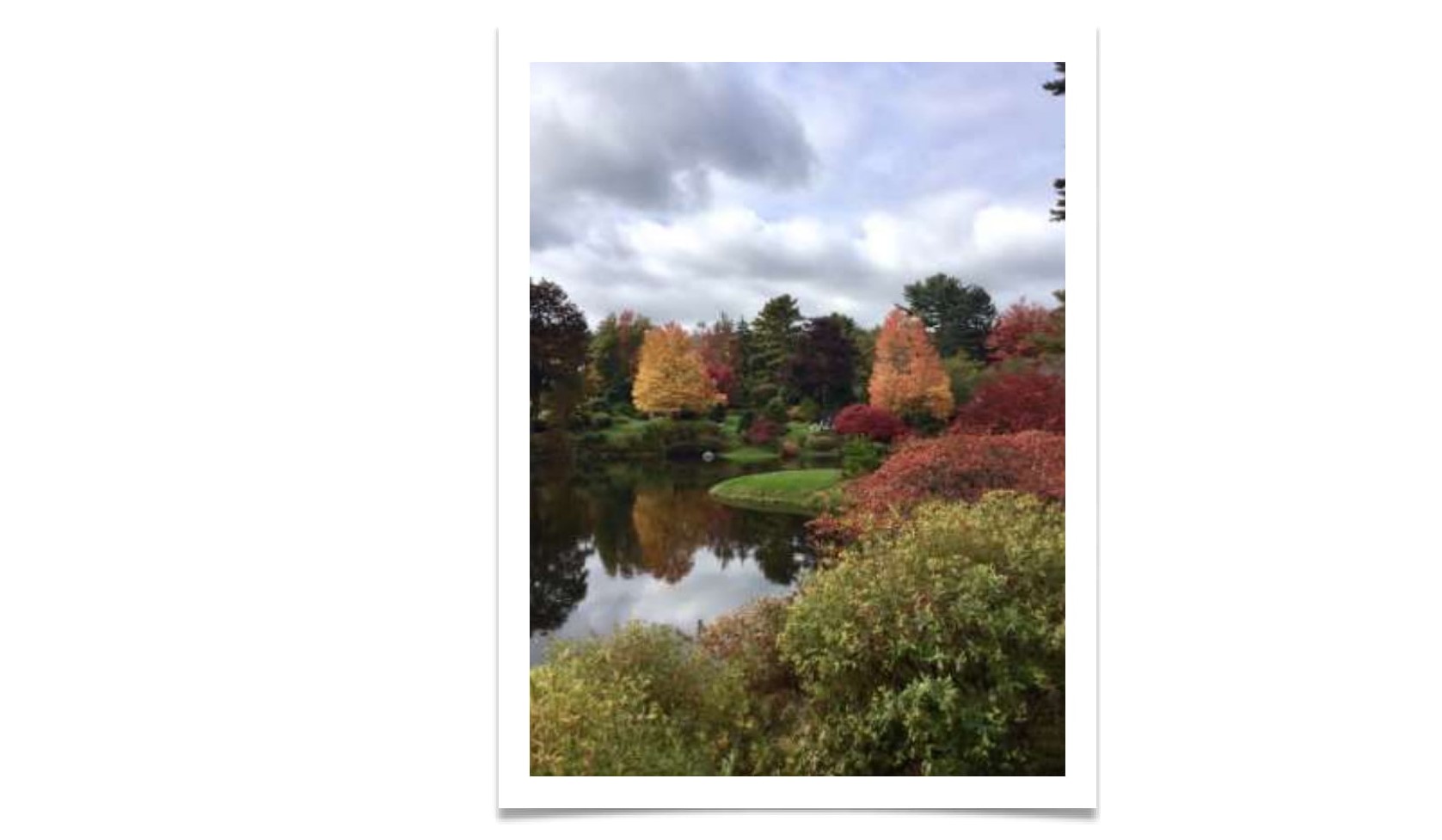 While driving, we were never far from a pound, where patrons look lunch in the eye before it meets its end. While wandering around small shops, we saw lobster T-shirts, key rings, bottle openers, Christmas ornaments, jewelry, etc. I went past a head shop and saw a ceramic lobster claw, and I can't begin to tell you its purpose.
We ate lobster in various forms during the trip (and seafood and river food at almost every meal) until we knew we didn't need to eat another lobster for a good long while. Before that happened, though, we ate dinner at Natalie's in the Camden Harbour Hotel. They had—wait for it—a 5-course lobster tasting menu. I couldn't resist. My husband could.
Here is the menu: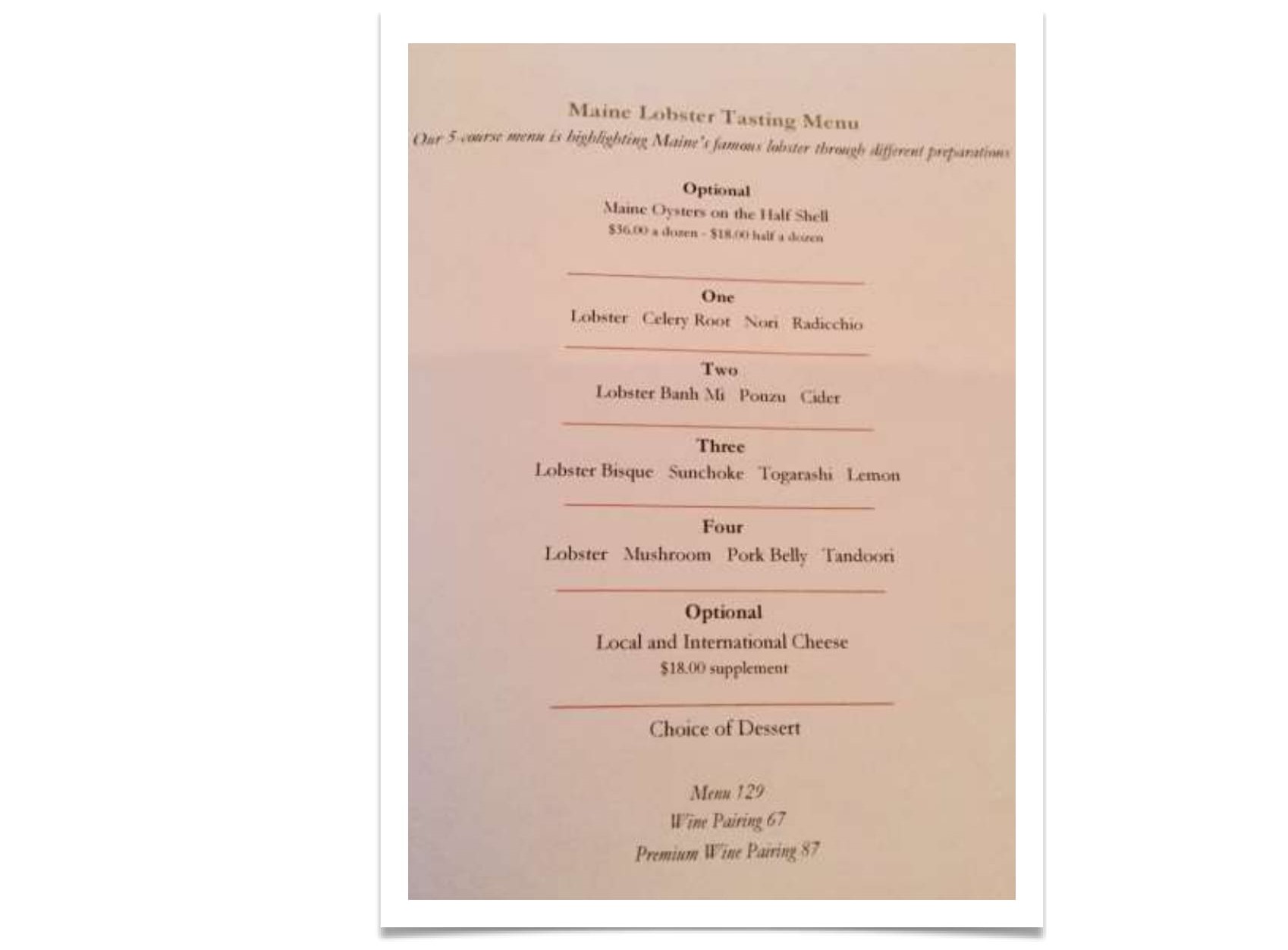 One of the executive chefs, Chris Long, won the Maine Lobster Chef of the Year Award in 2013, which gives you an indication of how much lobster fare is revered in Maine.
The dishes were beautifully arranged and surprising, and unlike a long-ago dinner at Charlie Trotter's where each course's ingredients and techniques were recited in EXCRUCIATING detail, the servers were great at explaining the textures and tastes and then letting us get on with the business at hand.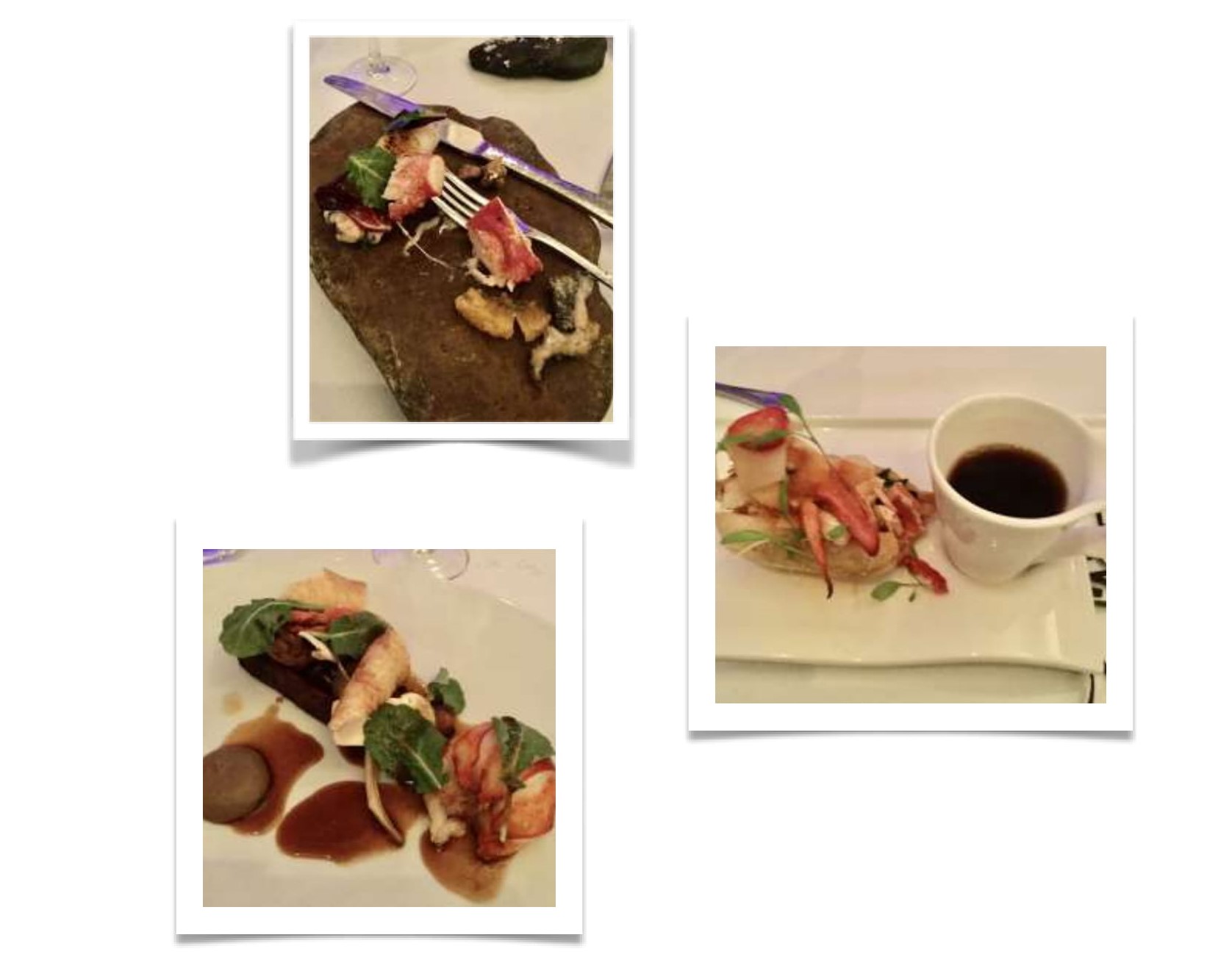 My opinion? Sometimes you can try too hard. The lobster lunch we had at Beal's Lobster Pier in Southwest Harbor was delicious and bare bones. You choose your crustacean and then your sides. I had coleslaw and skipped the corn bread and fries. I savored every buttery bite with nothing to distract me from that rich goodness.
Don't get me wrong. I enjoyed the meal at Natalie's and will long remember that culinary adventure. The surprising star of the show? The lobster bisque. Each spoonful evoked the sea and a quest to describe its subtle flavors. I was told that lobster shells are roasted, then thrown into a stock pot to simmer overnight. The transforming ingredient is togarashi, a popular Japanese spice blend.
We didn't have a bad meal during our 10-day stay. Even the quick lunches we picked up in supermarkets along the way were tasty and good value. Fresh lobster or fresh fish was available for breakfast, lunch, and dinner.
There are a lot of reasons to visit Maine. The scenery is gorgeous. There are outdoor activities of every sort. The people are friendly and very hospitable. The food is sensational. There are a lot of nice, small bookstores.
Did I mention lobsta?
Diane's bio
I've been traveling ever since I got my first bonus check, and a lot of that was solo, which allowed me better access to what some call the deep culture within the countries I visited. I married a man who lived in four countries before he started high school, and together we've lived in five countries on three continents. Through it all, I've searched out good food and have developed a respect and affinity for those who particulate in its production. Call me a good-food appreciator.