(Mostly) About Food… Eating with Your Eyes
(Mostly) About Food…
By Diane Pohl Minott
Eating with Your Eyes
Apple. Banana. Orange. Carrot. Celery.
With each word, an image probably popped into your thoughts, and it was probably an image of perfection. So, I have to laugh at the advice I often see about how to select produce. You know what I mean: Choose firm fruit with no brown spots or mushy flesh, blah, blah, blah. Unless you're buying an unfamiliar item, you don't need that advice. And you could probably do a pretty good job of choosing any plant without it.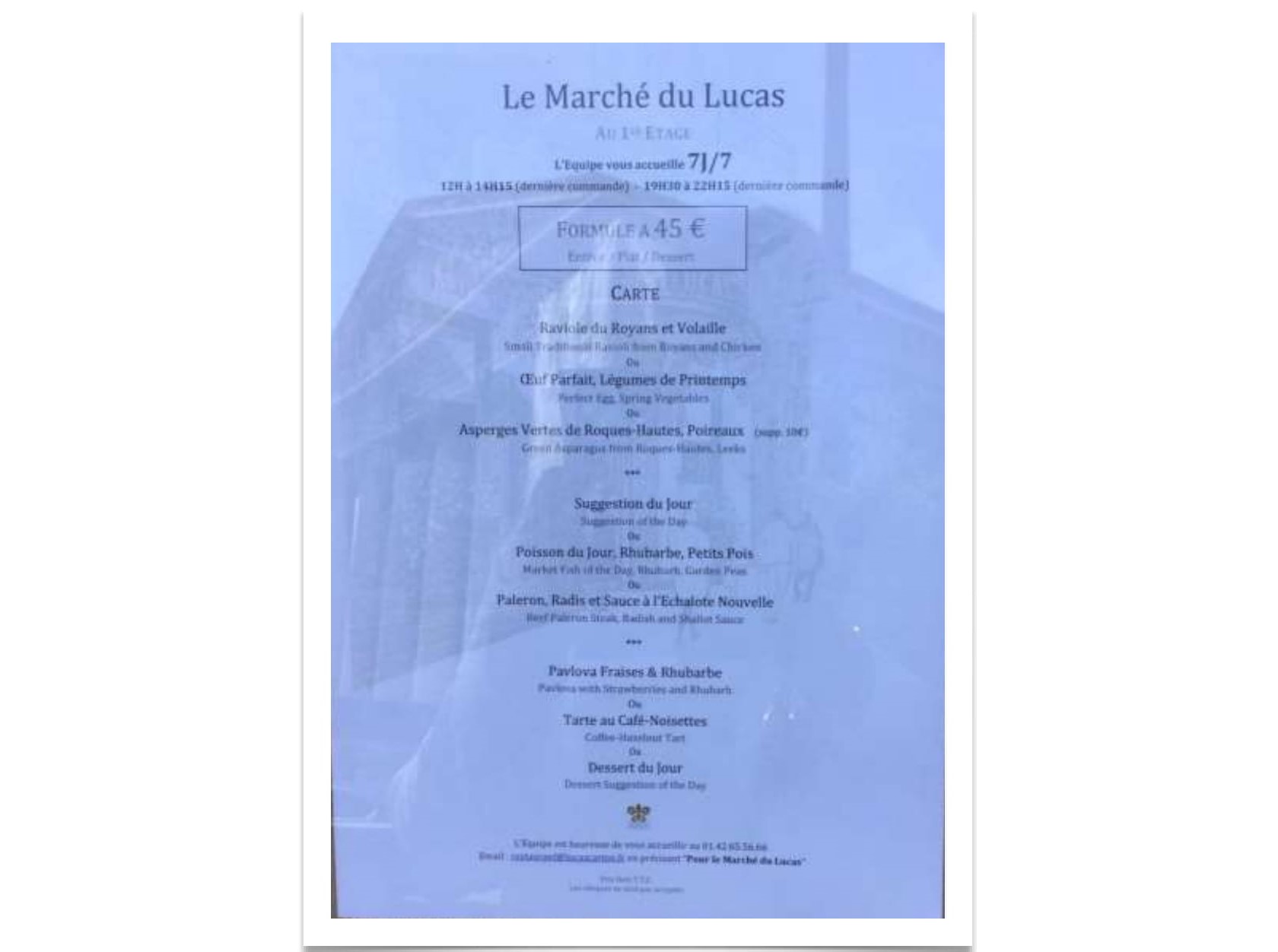 The mind's eye has a lot to do with choosing food.
On our spring vacation in Paris, we were searching for a restaurant for Sunday lunch after a good amount of walking and dodging the runners in the Paris marathon. We spotted a menu displayed in front of a commercial building. (Notice the reflection of the iconic Paris church, the Madeleine, in the reflection.) As I read the menu, I could picture the classic French approach to food: an artful preparation of in-season ingredients with only a little pretension. My salivary glands went into overdrive.
The restaurant was nowhere in sight. But the menu—oh my!—and the prices—unbelievable! It took me five seconds to convince my husband that we should head up to the second floor. We were not disappointed. The dining room was modern, classic and understated, and we were the only tourists in the place. The waiter suggested the perfect wine pairings for each of the delicious courses, and we left feeling as if we had found a particularly spectacular culinary gem in a city loaded with them.
We wanted another special meal on Easter Sunday a week later, so we again booked a table at the Le Marché du Lucas. Many menu offerings were the same, but one stood out. Asparagus with rhubarb sauce was an unexpected item that my mind's eye couldn't process. Of course, I've eaten a lot of asparagus. Some was good, and some was overcooked or undercooked, or undistinguished in some way. To enjoy this dish at my Easter meal, I had to fork over an additional 12 euros, about $13. Whoa! For asparagus! But it was Easter, and I suspected that this splurge would be well worth it. It was. My eyes were delighted by the vibrancy of spring produce at its peak. See for yourself: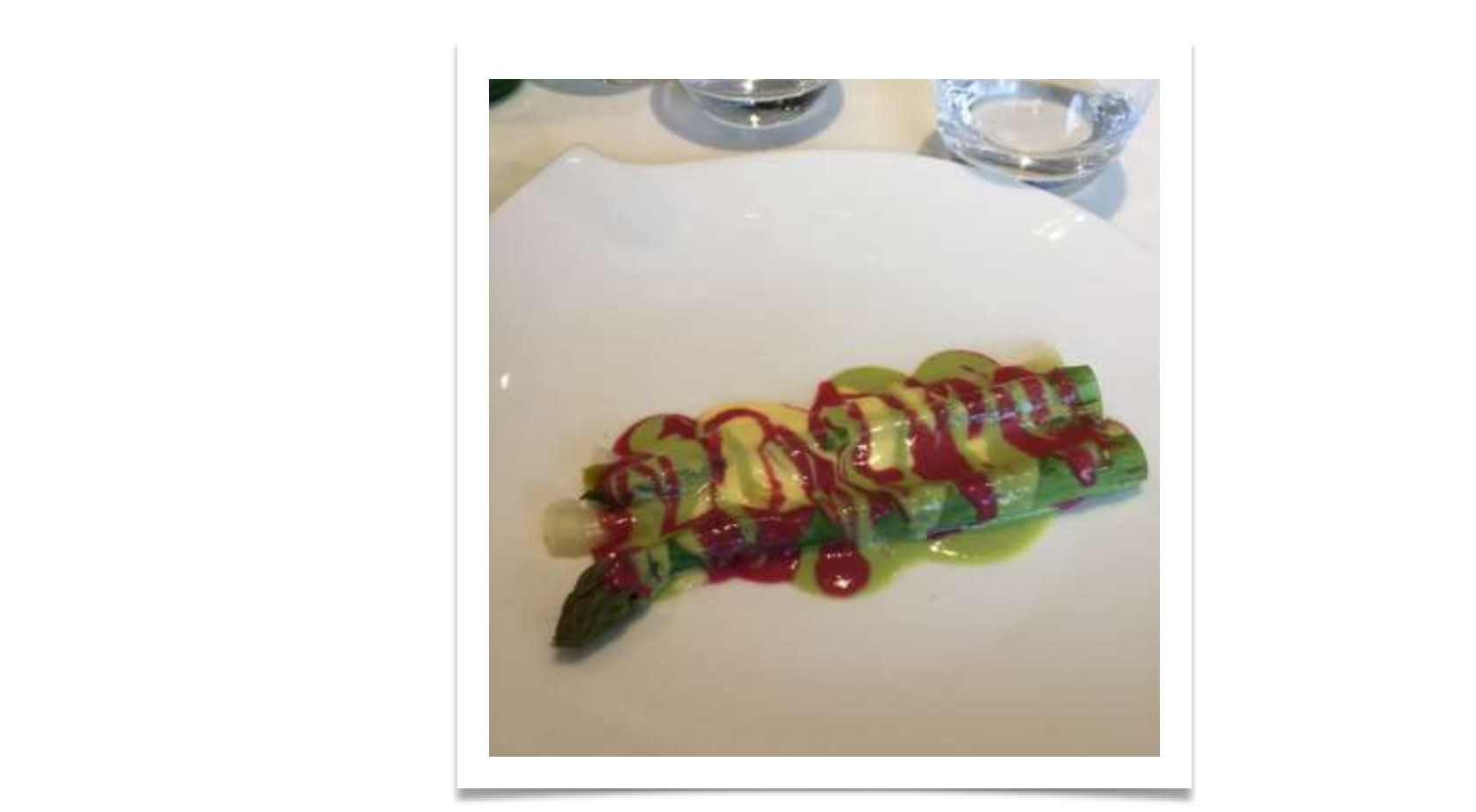 Bringing the lesson home, it occurs to me that even a small effort to enhance the appearance of a dish can have wondrous effects. An unanticipated but appropriate garnish or colorful sauce can spark mind's eye and thus enhance eating enjoyment. It's something to aim for in every meal.The colors surprised, and I just had to admire the dish for a (very) few moments before I took the knife and fork to it. If I live to be 100, this may be the only asparagus I will remember eating. It was steamed to perfection, a crisp-tender texture that I can only dream of duplicating. The spears were picked at their peak by an accomplished grower. I will remember the beauty of the presentation and the delight of the first bite. Thankfully, the sauce did not shout "rhubarb," but there was a synergy there, further validating the long-established kitchen wisdom: What grows together goes together.
About Diane Pohl Minott
I've been traveling ever since I got my first bonus check, and a lot of that was solo, which allowed me better access to what some call the deep culture within the countries I visited. I married a man who lived in four countries before he started high school, and together we've lived in five countries on three continents. Through it all, I've searched out good food and have developed a respect and affinity for those who particulate in its production. Call me a good-food appreciator.