(Mostly) About Food… It's the Middle of Winter and It's Freezing Outside Do What the Russians Do: Eat Ice Cream! Part II
(Mostly) About Food…
By Diane Pohl Minott
It's the Middle of Winter and It's Freezing Outside
Do What the Russians Do:
Eat Ice Cream!
Part II
A Slight Diversion
Supporting Small Food Producers
Recently, I had the eye-opening pleasure of attending a seminar given by Sherri Dugger, the Executive Director of the Indiana Farmers Union. The subject was advocacy, and she opened my eyes to the desperate plight of the small food producers in the U.S. who increasingly must compete with behemoth commercial organizations.
We are losing many small farms each year, a situation which reduces food quality and dampens competition. I learned more than I can write about here, but do consider a visit to the Farmers Union website as follows: https://indianafarmersunion.org. Their mission is to be the voice of the small food producer, and they encourage anyone interested in food production and safety to join their organization. It's something you can do today if you care about the food you eat, and most probably, you do.
Coolhaus Ice Cream
Funky and Wonder-full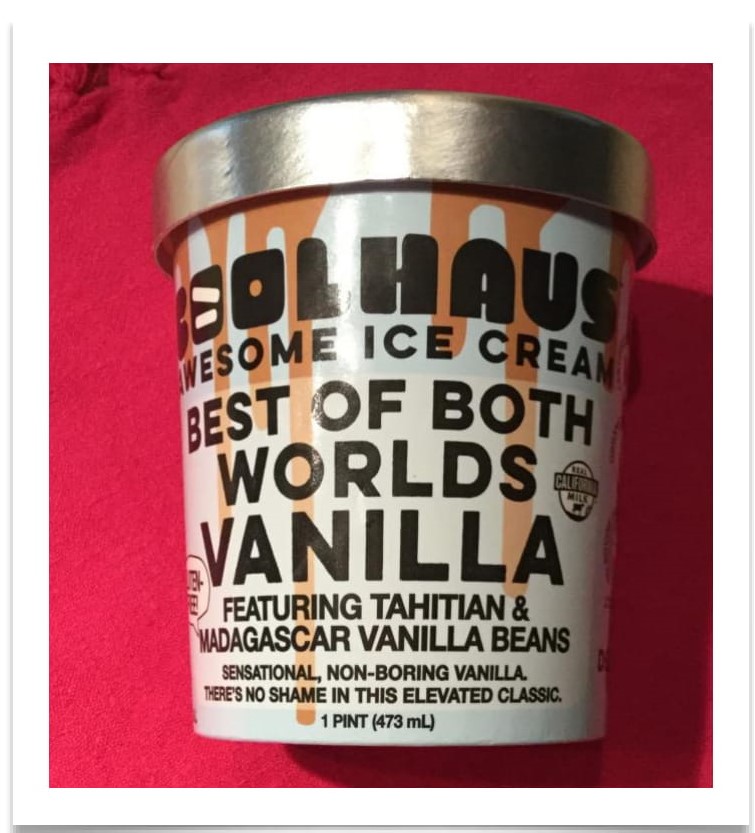 I always have on hand a pint of my new favorite ice cream: Balsamic Fig & Mascarpone by Coolhaus. Unbelievably, I found it in the "healthy" section of the freezer in my local Strack & Van Til. It is a full-fat, sinfully delicious brand sitting next to the rice creams and other products which, honestly, taste odd. What's going on here?
A browsing of their website shows that they use hormone-free milk and some organic ingredients, so they are not as organic as some ice creams, but given their flavors, I'll take their brand over many others.
Co-founders Natasha Case and Freya Estreller have passions for ice cream, cookies, and architecture. They decided to approach ice cream sandwiches as food architecture so they term their creations "cool houses." This is quite the stretch, but what they produce is so awesome that they can be forgiven. They set up a food truck that didn't take too long to become wildly popular. Choosing your own ice cream and cookies for your personalized sandwich is a far cry from the ones I bought from a guy on a bicycle with a freezer in the front when I lived on Taylor Street in Joliet.
The flavors they created, as listed their website, are vast and fascinating, and the choices at Stracks have increased over the last few months. I am not surprised. Among those I can find locally are Chocolate Molten Cake, Bananas Foster, Campfire S'Mores, Dirty Mint Chip, Street Cart Churro Dough, and (I'm sure it's a cult favorite somewhere) Milkshake & Fries which is salted Tahitian ice cream with shoestring french fries and milk chocolate malt balls. You get the idea. Sadly, I haven't been able to find a Coolhaus ice cream sandwich in Strack's freezer, but I'm planning on raising the issue with management.
The ladies also have produced a cookbook of recipes for tasty and odd (Peking duck!!!) ice creams and cookies so you can make your own. Interspersed throughout the book are short pieces on their favorite architects. Did I mention that they are Californians? The cookie recipes are as inspiring as their ice creams, and they incorporate crispy and chewy textures which perfectly suit a silken scoop of frozen dairy inside.
Here's a list of some of the ice cream recipes, in categories such as boozy, cakey, cheesy, savory, smoky/spicy, beverage-inspired, and holiday:
Spicy Pineapple-Cilantro-Chile
Baked Apple
Chocolate Stout & Chocolate-Covered Pretzels
Whiskey Lucky Charms
Kit Kat
Pistachio Black Truffle
White Chocolate & Olive
Fried Chicken & Waffle
Olive Oil & Rosemary
Chocolate Wasabi
Cuban Cigar (?!)
Green Tea
Sweet Potato Marshy
There are vegan options and gelato and sorbet recipes as well. If you make your own frozen desserts I am sure you will find inspiration.
The book also provides tips to elevate whatever ice cream you wish to make—your own recipe or theirs. For example, a marshmallow flavor can best be achieved with marshmallow fluff, and pumpkin pie ice cream has chunks of graham crackers instead of pie crust.
You can order Coolhaus pints, sandwiches and pies online at the following website: https://cool.haus.
And you can buy their book and read with awe flavors created in moments of soaring imagination or, possibly, inebriation.
Case, Natasha, and Freya Estreller, Coolhaus Ice Cream Book: Custom-Built Sandwiches with Crazy-Good Combos of Cookies, Ice Creams, Gelatos, and Sorbets, Boston, Houghton Mifflin Harcourt, 2014.